posted on 10 Jan 2015 01:38 by riknrol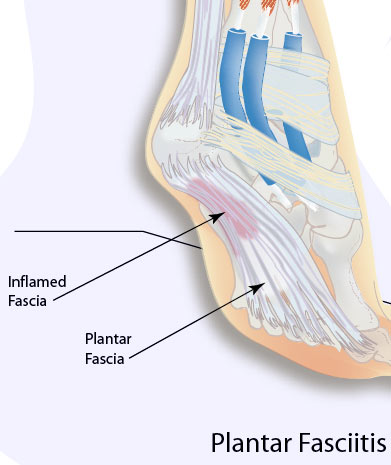 Overview
Plantar fasciitis is one of the most common sources of heel pain. Your plantar fascia is a thick fibrous band of connective tissue originating on the bottom surface of the calcaneus (heel bone) and extending along the sole of the foot towards the toes. Your plantar fascia acts as a passive limitation to the over flattening of you arch. When your plantar fascia develops micro tears or becomes inflammed it is known as plantar fasciitis.
Causes
This is a problem of either extreme, so people with high arches or those that have very flat feet are at risk of developing pain in this region. This is because of the relative stress the plantar fascia is put under. In people with excessive pronation, the plantar fascia is put under too much stretch, as their range flattens and strains it. People with a stiff, supinated (high-arched) foot lack the flexibility to appropriately shock absorb, so this too puts extra strain on the plantar fascia. Clinically, we see more people presenting with plantar fascia pain who have excessive pronation than those with stiff, supinated feet. But while the foot type is the biggest risk factor for plantar fasciitis, the whole leg from the pelvis down can affect how the foot hits the ground. A thorough biomechanical assessment will determine where in the kinetic chain things have gone wrong to cause the overload.
Symptoms
The symptoms of plantar fasciitis include pain in the bottom of your foot, especially at the front or centre of the heel bone, pain that is worse when first rising in the morning (called "first-step pain"), when first standing up after any long period of sitting, or after increased levels of activity especially in non-supportive shoes. Seek medical advice about plantar fasciitis if you have heel pain or pain in the bottom of your foot, especially when you get up in the morning, that does not respond to treatment or if there is redness or bruising in the heel.
Diagnosis
A health care professional will ask you whether you have the classic symptoms of first-step pain and about your activities, including whether you recently have intensified your training or changed your exercise pattern. Your doctor often can diagnose plantar fasciitis based on your history and symptoms, together with a physical examination. If the diagnosis is in doubt, your doctor may order a foot X-ray, bone scan or nerve conduction studies to rule out another condition, such as a stress fracture or nerve problem.
Non Surgical Treatment
In the early stages of plantar fasciitis resting the foot may ease the pain. Medication to reduce inflammation should help but should only be used short term. Strapping may temporarily reduce the pain. All of the above therapies are only temporary measures and the pain is likely to reoccur if the cause of the abnormal pressure which has triggered the plantar fasciitis has not been identified. In order to establish the cause of the plantar fasciitis a biomechanical assessment may be required.
Surgical Treatment
Surgery for plantar fasciitis can be very successful in the right patients. While there are potential complications, about 70-80% of patients will find relief after plantar fascia release surgery. This may not be perfect, but if plantar fasciitis has been slowing you down for a year or more, it may well be worth these potential risks of surgery. New surgical techniques allow surgery to release the plantar fascia to be performed through small incisions using a tiny camera to locate and cut the plantar fascia. This procedure is called an endoscopic plantar fascia release. Some surgeons are concerned that the endoscopic plantar fascia release procedure increases the risk of damage to the small nerves of the foot. While there is no definitive answer that this endoscopic plantar fascia release is better or worse than a traditional plantar fascia release, most surgeons still prefer the traditional approach.
Stretching Exercises
The following exercises are commonly prescribed to patients with this condition. You should discuss the suitability of these exercises with your physiotherapist prior to beginning them. Generally, they should be performed 2 - 3 times daily and only provided they do not cause or increase symptoms. Your physiotherapist can advise when it is appropriate to begin the initial exercises and eventually progress to the intermediate and advanced exercises. As a general rule, addition of exercises or progression to more advanced exercises should take place provided there is no increase in symptoms. Calf Stretch with Towel. Begin this stretch in long sitting with your leg to be stretched in front of you. Your knee and back should be straight and a towel or rigid band placed around your foot as demonstrated. Using your foot, ankle and the towel, bring your toes towards your head until you feel a stretch in the back of your calf, Achilles tendon, plantar fascia or leg. Hold for 5 seconds and repeat 10 times at a mild to moderate stretch provided the exercise is pain free. Resistance Band Calf Strengthening. Begin this exercise with a resistance band around your foot as demonstrated and your foot and ankle held up towards your head. Slowly move your foot and ankle down against the resistance band as far as possible and comfortable without pain, tightening your calf muscle. Very slowly return back to the starting position. Repeat 10 - 20 times provided the exercise is pain free.